News — gastroelm plus
Posted by Michael Peterson on
This is Asti. I started him on GastroElm Plus because he was having some trouble with ulcers. It cleared right up and he's been enjoying his daily dose ever since!
Posted by Michael Peterson on
This sweet miniature dachshund is Rusty. He was rescued at 4 years old and is now 13. He has had acute pancreatitis flares since he was 6 years old. A couple of years ago I discovered GastroElm Plus and he has been on it since that time. Now that I am consistent with it being in his food daily, he has not had a flare up in over a year.Thank you GastroElm!Mary S.    
Posted by Michael Peterson on
6 years ago our Quinn was diagnosed with IBD. We almost lost him before he was a year old because nothing the internal medicine specialists were doing was working, he would not eat and was starving to death. We tried adding Gastro Elm to other medications he was taking, and within a week he was eating. Quinn is now 6 years old, thriving, and still taking Gastro Elm. Quinn is pictured below running AKC Fast CAT and is currently ranked as the number 6 fastest American Eskimo Dog in the US. Susan H. GastroElm Plus has helped numerous dogs with IBD...
Posted by Michael Peterson on
This is Harry. He had an awful attack of acute pancreatitis after some bad salmon and we nearly lost him. We strongly believe GastroElm was integral to his recovery. We are almost three years post-attack and he still gets his GastroElm every day. If we think he's a bit "off" on any given day, we just double up. Thank you for helping us save Harry! Heather D. Learn more at: https://www.gastroelm.com
Posted by Michael Peterson on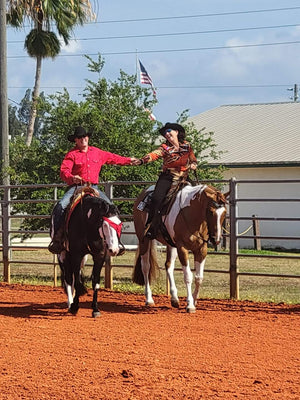 Both of my horses receive gastro elm, but gastroelm saved my horse on the left. Kramer developed a severe eye infection and during the treatment had a reaction to the medications. The colitis then caused colic which was a worst case scenario. After all what do you give a horse that colics FROM banamine?  He was in the hospital on IV fluids with horrible loose stools. We were told that there was nothing else they could do since drugs caused the problem in the first place. We brought GastroElm Plus and aloe from home and started giving it to him. The...
---