News — show horse
Posted by Michael Peterson on
This is my horse Ranger who is 30 years old. I bought him at an auction when he was an emaciated 5 month old. He is now a retired Endurance horse. We are AERC Decade Team members, which means we competed in 50 mile endurance competitions for 10 consecutive years. He also represented SGT. RECKLESS in the Washington DC Memorial Day Parade the last 3 years. Unfortunately he came down with EPM 2 years ago. Along with a long line of supplements to keep his immune system happy I also have him on GASTRO ELM PLUS every day for his Gut health. Here...
Posted by Michael Peterson on
This is my National Show Horse, Mini Coop.  We have taught each other a lot over the years.  He does get a nervous stomach during competition season.  We do a lot of hauling within our state.  I have been using GastroElm Plus for the past 4 years. He  as responded very well since we have incorporated it into his feed program.  Thank you for making such a great product for our 4 legged partners. Sincerely,  Stacey Kresha.  
Posted by Michael Peterson on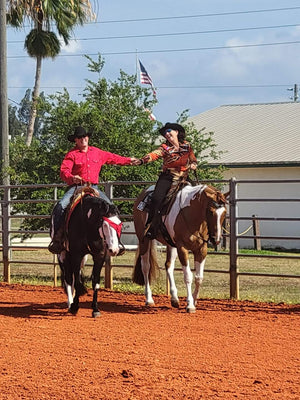 Both of my horses receive gastro elm, but gastroelm saved my horse on the left. Kramer developed a severe eye infection and during the treatment had a reaction to the medications. The colitis then caused colic which was a worst case scenario. After all what do you give a horse that colics FROM banamine?  He was in the hospital on IV fluids with horrible loose stools. We were told that there was nothing else they could do since drugs caused the problem in the first place. We brought GastroElm Plus and aloe from home and started giving it to him. The...
Posted by Michael Peterson on
I haven't had to buy any Ulcergard since using this.  I barrel race heavily at least two races a month and I just use gastro elm in place of when I would dose with ulcergard.  I've had the calmest horses I've had in 6 years of running barrels. They're almost too calm.  I wasn't sure if we were warming up for pleasure class or a barrel race this past weekend! My one filly gets really worked up easily and hates when I pull away my other horse and now she stays calm, doesn't get nervous and barely calls after my...