Posted by Michael Peterson on
Blue spent well over a year in misery. Two vets plus a holistic vet saw him. Our last plan was to take him to MSU for a scope. Every morning, Blue would be laying down in the pasture. It got to the point that he would nicker to me hoping for a dose of Banamine. I ran across the ad for GastroElm during my endless internet searches for information on chronic colic. After reading reviews, I ordered a bag. I admit I wasn't expecting much, but I was at the point of considering euthanasia. Blue's misery was causing me as...
Posted by Michael Peterson on
My name is Jennifer Jonas and I cannot say enough wonderful things about GastroElm! I have an OTTB named Liam and he had been having issues with ongoing  colicky belly as well as a liver infection found during a spring vet check. A friend of mine had had wonderful results for her Thoroughbred and said it was well worth a try.  I went on your website and read about the ingredients and loved that not only that your product worked for colicky belly and that it had Milk Thistle which naturally helped to detox the liver.  I ordered a bag and the results...
Posted by Michael Peterson on
This is Sara Storm a young foal that kept having gas colic while weaning. The vet provided ulcer medicine and I knew better than running the month course. Instead I used Gastro Elm before during and after as follow up!  She has done amazing on a maintenance dose and is a very happy girl!  Rene T.   For more information on all the benefits of using GastroElm Plus in horses learn more at:   GastroElm Plus For Horses
Posted by Michael Peterson on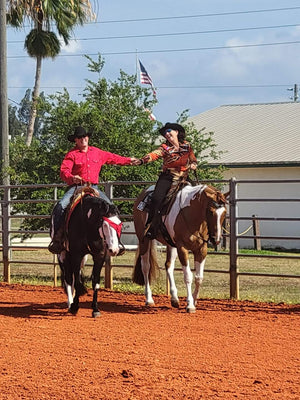 Both of my horses receive gastro elm, but gastroelm saved my horse on the left. Kramer developed a severe eye infection and during the treatment had a reaction to the medications. The colitis then caused colic which was a worst case scenario. After all what do you give a horse that colics FROM banamine?  He was in the hospital on IV fluids with horrible loose stools. We were told that there was nothing else they could do since drugs caused the problem in the first place. We brought GastroElm Plus and aloe from home and started giving it to him. The...
Posted by Michael Peterson on
This is my rescued horse, Pride's Viper.   His history was horrible. He came to a friend with most of the hide beaten off one side of his neck. The friend spent several months rehabilitating Pride but was never able to ride him consistently because Pride would spook & jump at any little movement. Since my friend knew my history with the TN Walking Horse breed, they asked if I could take him. I agreed immediately & brought him to live with my herd & me.  Pride was nervous about everything new & it was all new. Kindness, good feed,...
---